"Children are great imitators. So give them something great to imitate.
— Lady Bird Johnson"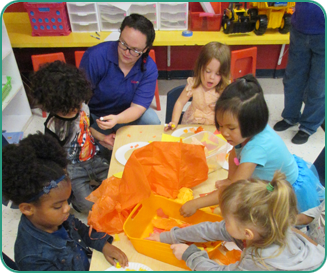 Here at Kidz Korner, we have a unique partnership and we are very dedicated in providing a kind, nurturing and learning environment. We have a close relationship with our families and many children stay in our program from infancy through school age. We very much value the relationships that we have with our children, staff and families.
It is important to us that there is a similar child care philosophy between parents, teachers and administration. We promote a family atmosphere and treat each child with love and respect as a member of our Kidz Korner family. Our staff are nurturing, friendly and provide the best possible care for each child. All of our children are loved, cared for, and respected. Children are also encouraged to respect others. They are listened to, spoken to, and supported daily by teachers and administrators so that they can be successful in every way.
We believe communication is the key to creating a good relationship between all. The staff make every effort possible to effectively communicate with each parent about their child's progress and daily activities in their classroom. We always welcome questions, feedback or suggestions to make your child's learning experience the best that it can be.
Our curriculum is emergent in nature. We encourage our staff to communicate with the children and observe what interests them. Child directed learning with teacher support is our goal for each child. Children learn through circle time, art, music, dance, sensory activities and various mediums. All classrooms prepare children for a lifelong love of learning! We welcome your family to stop by and visit our center.
We understand that when you trust your child to the care of others, you need to know that it is a safe place with dedicated staff that will take wonderful care of your child. It is of the utmost importance to us that we are providing that care to your child. We pride ourselves on having an open-door policy to make it convenient for you to drop in our center at any time of the day to visit with your child, and we encourage you to do so.
If you have any questions or interest in visiting a center in your area please contact us.